Can you believe it is just two weeks until Christmas?  I am amazed when every year, the last six weeks seem to go by so quickly. We celebrate Thanksgiving and prepare for Christmas, and before we know it, it's New Years and the holidays have passed.
Where are you in the midst of your holiday planning? Have you finished your shopping? Are you planning a Christmas party or attending an office get-together? Have you done any baking?
Do you remember the old saying, "Never get so busy making a living that you forget to make a life?" I feel that the holiday season is that way.  We get so busy looking for the perfect gifts, baking the perfect cookies and planning the perfect party that we forget to enjoy the beauty and celebrate the reason for the season.
"At the heart of every family tradition is a meaningful experience." Unknown
My mom was great at keeping us surrounded by Christmas tradition. Besides writing our letters and visiting Santa, we helped (or watched) her bake and decorate cookies and make Christmas gifts. She taught us the importance of creating memories while participating in holiday activities. My brother, sister and I always had Christmas band and choir programs, our church had a Christmas program, and we usually also had a boy scout and girl scout program. We would celebrate the birth of baby Jesus at the Christmas Eve service. We would return home after church and open one present and eat homemade cookies and drink eggnog. Then we would celebrate Christmas Day as a family as we opened gifts and enjoyed a delicious Christmas breakfast. We had family get-togethers and would take a trip to Iowa to see my paternal grandparents between Christmas and New Years.
Do you have family traditions that you follow every year? I do think it is important to pass traditions on to our children. My mom bought the See's Candy Company fudge recipe in 1953, and we make several batches every year. Over the years, we have given the recipe to a few friends and family members, but we try to keep it close to our hearts.  My oldest son makes the fudge better than I do. In addition to Norwegian butter cookies, decorated cut out cookies, and peppermint pinwheels, my mom made cornflake wreaths, and I have decided to share that recipe with you this week.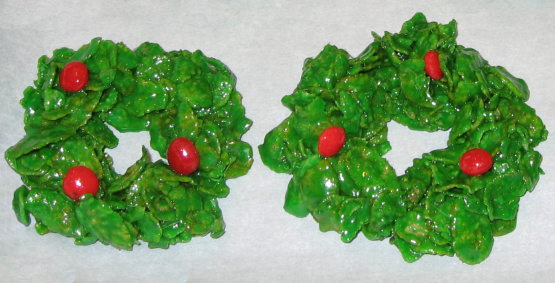 Cornflake Wreaths
This recipe makes 1 ½ dozen 2-inch wreaths
Ingredients:
½ cup (4 ounces) unsalted butter
30 (7.25 ounces) large marshmallows
1 ½ teaspoon green liquid food coloring
1 teaspoon pure vanilla extract
4 cups cornflakes
2 tablespoons cinnamon red hots
Equipment: Flat counter or cookie sheet, lined with wax paper and sprayed with nonstick cooking spray or lightly greased or buttered; 2 small spoons sprayed with nonstick vegetable cooking spray
Directions:
Spray a medium saucepan with nonstick cooking spray.  Melt butter over low heat. Add the marshmallows and melt them over low heat, constantly stirring, until smooth (about 6 minutes). Remove the pan from the heat and whisk in the food coloring and vanilla extract until well blended. Stir in the cornflakes and coat them well. Keep the mixture warm by placing the saucepan in a large pot or skillet filled with 1 inch of hot tap water. Replace the water as it cools.
Working quickly, so the mixture does not harden, use the two spoons, or lightly greased fingers, to drop small (1 heaping tablespoon) mounds of the cornflake mixture onto the wax paper. With lightly greased fingers, quickly form the cornflake mounds into wreaths with holes in the centers.  Immediately, while the wreaths are still sticky, decorate the wreaths with red-hots.
When wreaths are dry, store in an airtight container where they will keep for about one month (if they last that long).
My challenge to you this week is the following:
Take a few minutes out of your busy schedule to think about Christmas when you were growing up. Are there traditions that you have carried on with your family? Are there traditions that you would like to begin, have you haven't found the time? Make this December the year to start something new. Buy tickets for your family to enjoy to a Christmas program, drive around the city looking at Christmas lights and end the evening sharing dessert and hot chocolate at a local restaurant. Gather ingredients and spend the day baking cookies with your children. If you are watching your diet, pack them in boxes and deliver them to your neighbors. Those who receive the baked goods are the ones who will be blessed. The important thing is to spend the time making memories with your children.
"Traditions help create memories. Traditions help impart our life values to our children. Traditions help give children a sense of identity. Traditions help create a sense of belonging. Traditions offer a sense of security."                                        Allison Lee, WritingWishing.com
Have a blessed week!
Cindy
I own a promotional products business where I offer over 1 million different products to meet your promotional needs.  I also have a complete wedding line including save the dates, invitations, napkins, imprinted stemware, and attendants gifts.  I'd love to schedule an appointment with you to see how I can help you with your promotional needs!
www.gardnerpromotionalsolutions.com