Every week, I chose a subject to write about and pray that my words will enhance the life of at least one of my readers. This week, I pray that my words touch the heart of every reader because I feel that the subject is so important. Intrigued? Please keep reading…
My parents were middle class, hard-working, Christians who taught me the difference between right and wrong.  They taught me the value of hard work. They taught me that if I did something wrong, there were consequences. But most of all, they taught me to be kind. I was taught to respect my elders and those around me.
"We make a living by what we get. We make a life by what we give." Sir Winston Churchill
Why am I telling you this? Because as a country, we are failing our children. Parents want to be friends instead of teachers to their children. Children learn by example and if we do not teach them right from wrong, give them expectations to follow, and teach them kindness and respect, then they won't learn the basics for success in life.
My husband and I spent the day together on Sunday and witnessed a young girl holding the door open for about 15 people as they came in and out of a set of doors.  A few murmured "thank you, " and many said nothing. We thanked her for holding the door for us, and she smiled and said, "You're welcome." As we sat and enjoyed breakfast, my husband and I talked about how seldom we see anyone do anything nice.
What has happened in America? We are so quick to judge, put down and criticize. We no longer look for the best in people. We try so hard to succeed and most of the time don't care who we step on to get to the top. We seldom acknowledge the successes of others. We have become a "me, me, me" nation and it's time to step back and put others before ourselves.
 "Let no one ever come to you without leaving better and happier. Be the living expression of God's kindness: kindness in your face, kindness in your eyes, and kindness in your smile."  Mother Teresa
This week I will discuss simple ways to practice kindness.
Smile
Smiles are free.  And, they are contagious.  Share a smile with everyone you meet.
Give Compliments
Tell a friend that you like her outfit. Praise a report written by a colleague. Congratulate a co-worker for the promotion you secretly wanted. Thank a server for taking care of your needs.
Pay It Forward
Paying it forward doesn't always have to cost you anything. Allow the person behind you check out in front of you. Hold open a door. Buy the person behind you in line their morning coffee.  Offer to babysit for a friend so she can do her grocery shopping without her children. Bake cookies for your neighbor. Grow extra vegetables in your garden and given them to a family who may be having a difficult time making ends meet. Volunteer at a food pantry. Give a copy of a good book to someone you think might enjoy reading it.
Donate
Make a donation to a charity in the name of a friend or family member. Offer to pay a fee for a child to participate in a sport. Sponsor a team. Collect donations for a walkathon. Donate blood. Put money in a meter that you see is going to expire.
And, most importantly, Always tell those important to you how much you love them.
The lists are endless. Always give willingly and without hesitation.
This week, my challenge to you is the following:
Practice at least one act of kindness per day.
Go out of your way to hold a door, allow someone to go ahead of you in line, bake someone a treat, write a thank you note, or send someone a note of congratulations for reaching a goal or getting a new job.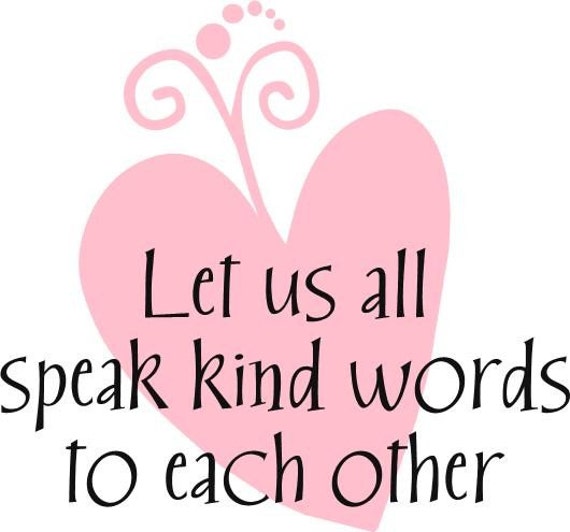 Practice speaking words of kindness.                                                                                                        
It is important to know that an unkind word truly effects the lives of others. Unkind words, once spoken, can never be taken back. We should practice controlling what comes out of our mouths. We should teach our children to follow the Golden Rule, "Do unto others as you would have them do unto you."
Let's help change the world by removing the everyday nastiness and replacing it with kindness. Every day, Ellen DeGeneres ends her show by saying, "Be kind to one another."  Let's try to make her suggestion a reality and the world a kinder place.
Have a great week!
Cindy
I own a promotional products business where I offer over 1 million different products to meet your promotional needs.  I also have a complete wedding line including "save the dates," invitations, napkins, imprinted stemware, and attendants gifts.  I'd love to schedule an appointment with you to see how I can help you with your promotional needs!
www.gardnerpromos.com