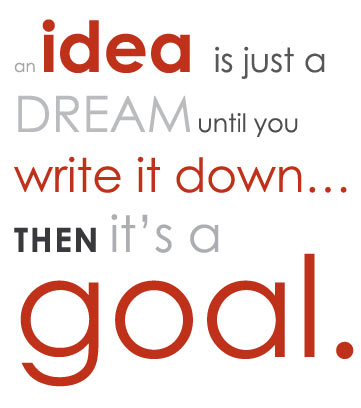 As I changed my calendar to September this week, I could hardly believe that the third quarter of 2017 is nearly complete. Where are you in terms of meeting your 2017 goals? Before you roll your eyes and think to yourself, "Ugh, she's talking about goals again this week," remember why you set them. Last December we walked through the importance of setting goals and discussed the need to review them periodically so that you stay focused towards meeting them. This is a great time to pull them out, dust them off and see where you are with the goals you set for yourself at the beginning of the year.
"The tragedy of life doesn't lie in NOT reaching your goal. The tragedy lies in having NO GOALS to reach." Benjamin Mays
Personally, I need to really buckle down and focus if I am going to be able to meet some of the goals I set for 2017. I was pretty aggressive with my planning for the year and if I'm being honest, I have a lot of work to do in the next 16 weeks. Many of you are probably right on track. Others, like myself, have fallen short in one or more areas and now is the time to start focusing on what is important to us.
Let's start with the personal goals. They are usually more fun and the ones I tend to push aside. I haven't lost the weight I had planned. I haven't taken the weekend getaways with my husband. My home isn't as organized as I planned. I have been pretty regular to church and have stayed in contact with family and friends, but I got off track with going out to dinner monthly with a friend.  Wow.  It looks like I'm really struggling.
Perhaps I should look at my professional goals. I have added a few new clients. I have moved forward with the marketing event planned for October 12th. I'm still filling vendor tables and have a few breakout speaker spots to fill but I have a terrific keynote speaker. I have not tried to go out and cold call, but I have visited and plan to join a Toastmasters to work on my self-confidence and public speaking skills. I have tried to time blocked my schedule. I have attended several trade shows, and I have one in Cincinnati next week (does that count as a getaway with my husband? Haha) I am still on the fence about scheduling Las Vegas in January. Hmm. What do I do now?
"When it is obvious that the goals cannot be reached, don't adjust the goals, adjust the action steps." Confucius
Tomorrow is a new start. Personally, I will restart my fitness routine and be stricter with my eating habits.  I will look at the calendar and find a couple of opportunities to plan an overnight getaway with my husband and I will schedule dinner with a friend. I can work on my home, but sometimes good is good enough.
Professionally, I may enlist the help of some of my colleagues to help keep me on track. I will time block a half of a day a week and cold call. It worked 6 years ago when I was building my business. Now, I want to see if it will help to grow my business and add a couple of new clients before the end of the year. I will continue to work on making my marketing event great. I will take that leap, join Toastmasters and get to work on my speaking and self-confidence. And, I will work on ramping up for the 4th quarter so I can finish the year on a positive note.
I've been pretty honest with you today. There are areas when I am struggling and I know I need to stop and acknowledge that fact and start all over again. Honestly, how are you doing?
If you are on track in all areas your life, then I want to take a moment to congratulate you. I know how much hard work and dedication you have given to meet your goals. If you need to refocus your energy to get back on track and work on your goals, then it's time to stand up and get started. There is absolutely nothing wrong with hitting the reset button and starting over.
Today is Labor Day. Many will be celebrating with family and friends. Perhaps you've taken a quick family getaway. Enjoy today. Have that cookout and share a few adult beverages. But, make a commitment that when your alarm goes off tomorrow morning, you will not only get out of bed without hitting the snooze button (you know who you are,) but that you will hit the reset button towards working and achieving your goals. You can't fail. You have a plan in place. You simply need to follow it. Celebrate the victories no matter how small and work hard towards reaching the goals that you've set for yourself. You can do it!
And finally, "surround yourself with people who are going to motivate and inspire you!" Charles M. Marcus
Have a great week!
Cindy